Residential Fitness Trackers
---
When it comes to getting fitter and healthier, knowledge is power. And a new breed of wrist-worn gadgets can tell you more about yourself than even you ever knew. Consider these handy hybrids part pedometer, part heart-rate monitor, part sleep accelerometer and part calorie tracker. They can reveal the number of steps you take, the duration and intensity level of your activity, your heart rate, what times of day (and seasons) you're most prone to being a couch potato, the number of calories you burn and the length and quality of your sleep.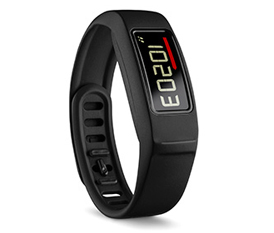 ---
Garmin vívofit® 2
---
Activity Tracker with Move Bar and Alerts
Features 1+ year battery life
Reminds you to stay active with move bar and audible alert
Learns your activity level and proposes a personalized daily goal
Shows steps, calories, distance and time of day on backlit display; monitors sleep
Automatically syncs to Garmin Connect™ to save, plan and share progress
Get up and get moving with vívofit 2. It's the only activity tracker¹ with a 1+ year battery life and backlit display. It even reminds you to stay active throughout your day with its move bar with audible alert that lets you know when you've been idle for an hour or longer.
---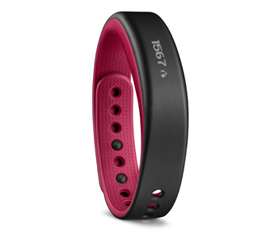 ---
Garmin vívosmart®
---
Activity Tracker Plus Smart Notifications
Displays steps, calories, distance and time of day
Vibration alerts for calls, texts and emails from your smartphone
Easy operation using touch and swipe
Inactivity alert reminds you to move
Auto goal keeps you challenged
---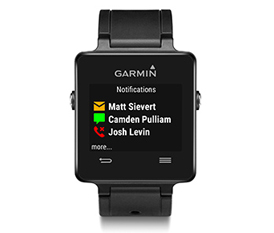 ---
Garmin vívoactive®
---
GPS Smartwatch for the Active Lifestyle
Ultra-thin GPS smartwatch with a sunlight-readable, high-resolution color touchscreen
Built-in sports apps, including GPS-enabled running, biking and golfing plus swimming and activity tracking, let you view your stats even when away from your phone
Pairs with your smartphone to gently vibrate and display alerts for incoming calls, texts, emails and calendar items plus notifications from social media and other mobile apps
Customize with free watch face designs, widgets and apps from our Connect IQ™ store
Battery charge lasts through all your activities with up to 3 weeks5 in watch/activity tracking mode or up to 10 hours using GPS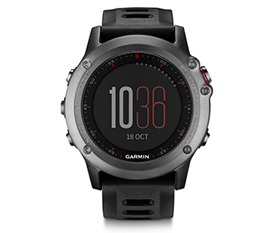 ---
Garmin fēnix® 3
---
Uncompromising Multisport Training GPS Watch
Stainless Steel EXO™ antenna with GPS + GLONASS support for fast fix and accuracy
1.2-inch sunlight readable color Chroma™ display
Fitness training features like VO2 Max and
Recovery Advisor (when used with a heart rate monitor¹)
Outdoor navigation features like 3-axis compass, altimeter and barometer, TracBack and Sight'n Go
Connect IQ™ compatibility for customized apps, widgets, watch faces and data fields fēnix 3 is the rugged, capable and smart multisport training GPS watch. With feature sets for fitness training plus feature sets for outdoor navigation, fēnix 3 is ready for any training activity and competition. Access to the Connect IQ platform allows customization of watch faces, data fields, widgets and activities. And, fēnix 3 is a thin, light multisport training GPS that won't slow you down whether for training or every day use.
---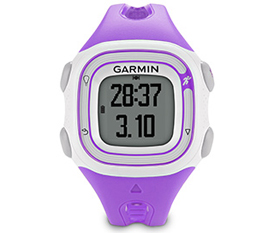 ---
Garmin Forerunner 10
---
Stylish, Simple GPS Captures Every Mile
Tracks distance, pace and calories
Start running with the press of a button
Identifies personal records
Virtual Pacer™ compares current pace to target
Plan, review and share runs at Garmin Connect™
---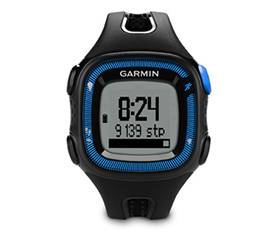 ---
Garmin Forerunner 15
---
Easy-to-use GPS Running Watch with Heart Rate
Tracks distance, pace, heart rate and calories
Activity tracking counts steps and calories and reminds you when it's time to move
Compatible with foot pod³ for recording distance indoors
Up to 8 hours of battery life with GPS on or 5 weeks in watch/activity tracking mode
Save, plan and share your activities at Garmin Connect™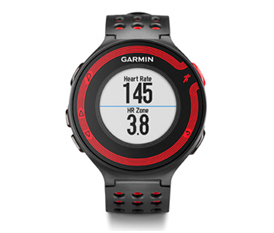 ---
Garmin Forerunner 220
---
Colorful Running Companion with Connected Features
GPS running watch with high-resolution color display
Tracks distance, pace and heart rate
Identifies personal records
Connected features: automatic uploads to
Garmin Connect, live tracking, social media sharing
Compatible with free training plans from Garmin Connect
---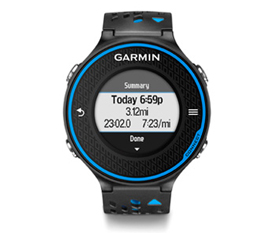 ---
Garmin Forerunner 620
---
Advanced Running Watch with Recovery Advisor
Touchscreen GPS running watch with high-resolution color display that tracks distance, pace and heart rate
Calculates your recovery time and VO2 max estimate when used with heart rate
HRM-Run™ monitor adds data for cadence, ground contact time and vertical oscillation
Connected features: automatic uploads to Garmin Connect, live tracking, social media sharing
Compatible with free training plans from Garmin Connect
---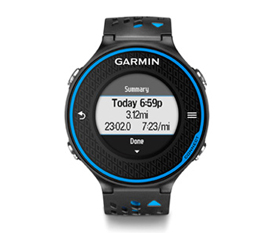 ---
Garmin Forerunner 920
---
Multisport GPS Watch with Running Dynamics and Connected Features
Running dynamics include cadence, vertical oscillation and ground contact time
Offers VO2 max estimate, race predictor and recovery advisor
Features swim distance, pace, stroke type identification, stroke count, drill logging and rest timers
Smart notifications let you see email, text and other alerts on your watch
Connected features: automatic uploads to Garmin Connect™, live tracking, social media sharing