Residential Free Weight Equipment
---
The key here is quality and optimal space usage. A department store fitness area is full of machines that are designed to SELL, not built to last. At Prosource, our comprehensive selection of weight training gear is built to withstand the rigors of daily use. These machines are basically scaled-down versions of the commercial pieces we offer. The gauge thickness of the frames and quality welds assures the unit's structural integrity for years to come. From spring collars to smith machines, Prosource Fitness Equipment can provide the correct piece to achieve your fitness goals.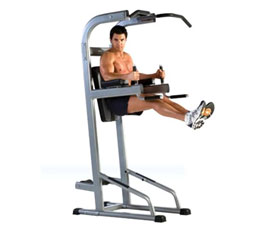 ---
TuffStuff RCD-347 Vertical Knee Station
---
Space efficient with multiple exercise options such as chin-ups, dips, knee raises, ab crunches and push-ups
Dual function support pad designed for VKR back support as well as ab crunch board
Narrow and wide grip chin-up bar
---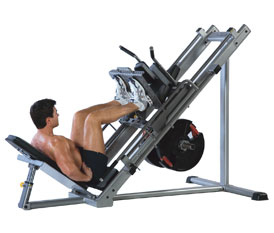 ---
TuffStuff Leg Press/Hack Squat RLP-200
---
45-degree angle of travel
1-inch self-aligning linear bearing carriage system provides smooth and precise movement
Various angle adjustments on the dual function platform/back support
Dual safety catches (left and right) designed to lockout and release at ease
Maximum weight load 720 lbs.
Built-in Olympic plate holders
---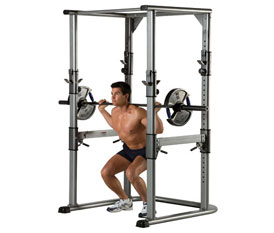 ---
TuffStuff RPR-265 Power Rack
---
Free standing double-sided racking system built for safety and variety
Dual bar catches on the front upright allow user to face in either direction to perform the exercise
Lever action pull-pin release provides fast and easy safety spotter adjustment
Designed for any free style squatting, lifting or pressing and can be used with benches
Option: RDA-329 Dip Attachment
Option: RHL-305WS
High/Low Pulley Kit with 200 lbs. weight stack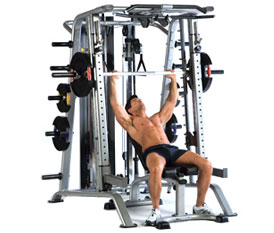 ---
TuffStuff RSM-625WS Smith Machine
---
7-degree slant design allows for a more natural body movement
Enclosed self-aligning linear bearing press system with safety stopper
Fully adjustable high/low cable system with swivel rotating handle (200 lbs. weight stack)
Separate lat and low row stations
Dual lat pulley station for unilateral or bilateral movement
Full length steel weight shrouds
Includes RMB-375 Multi-Purpose Bench and RAR-620 Accessory Combo Rack
Fixed mount wide grip chin-up bar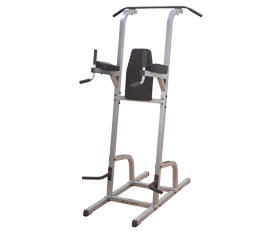 ---
Body-Solid Deluxe Vertical Knee Raise GVKR82
---
Designed to provide an intense ab workout while eliminating strain on the lower back, the Vertical Knee Raise Machine is hard to beat for vacuuming the waistline. Easy and convenient step entry makes getting started a breeze. Thick, comfortable DuraFirm™ back pads and arm supports reduce fatigue and discomfort allowing you keep working on your abs and obliques. Both machines feature Dip Station handles with oversized handgrips for a killer triceps/ deltoid/ lower pec workout. Rock solid support and stability is delivered via heavy-gauge steel frames with all-4-side welded construction.
---
Download Brochure
---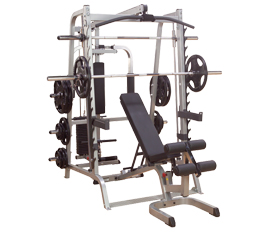 ---
Body-Solid Series 7 Smith Gym GS348QP4
---
Our Series 7 Smith Gym System gives you the freedom of movement you need to do your exercises correctly. The Series 7 Smith Gym is based on a 2″x 3″ commercial quality mainframe and set to a 7 reversed pitch. The 7 angle was designed to allow natural upper and lower body movements for precise chest and gluteal biomechanics. Over 50 exercises are available on our Series 7 Smith Gym System and all of them can be done correctly under your control. Every set, every rep, every movement. That is how you get real results. And there's only one thing you want from your gym system. Results.
---
Download Brochure
---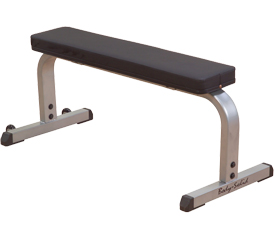 ---
Body-Solid Heavy-Duty Flat Bench GFB350
---
If you want the ability to perform all the basic barbell and dumbbell exercises then this flat bench should be your choice! Increase your strength and flexibility with this ultra-tough workout bench. DuraFirm™ extra-thick upholstery adds comfort and stability to your exercise routine. The pad is positioned on the Body-Solid 2″ x 3″ commercial mainframe with four-side welded construction. Euro-Cap foot levelers add style and function to a popular piece that easily fits all users. Commercial warranty.
---
Download Brochure